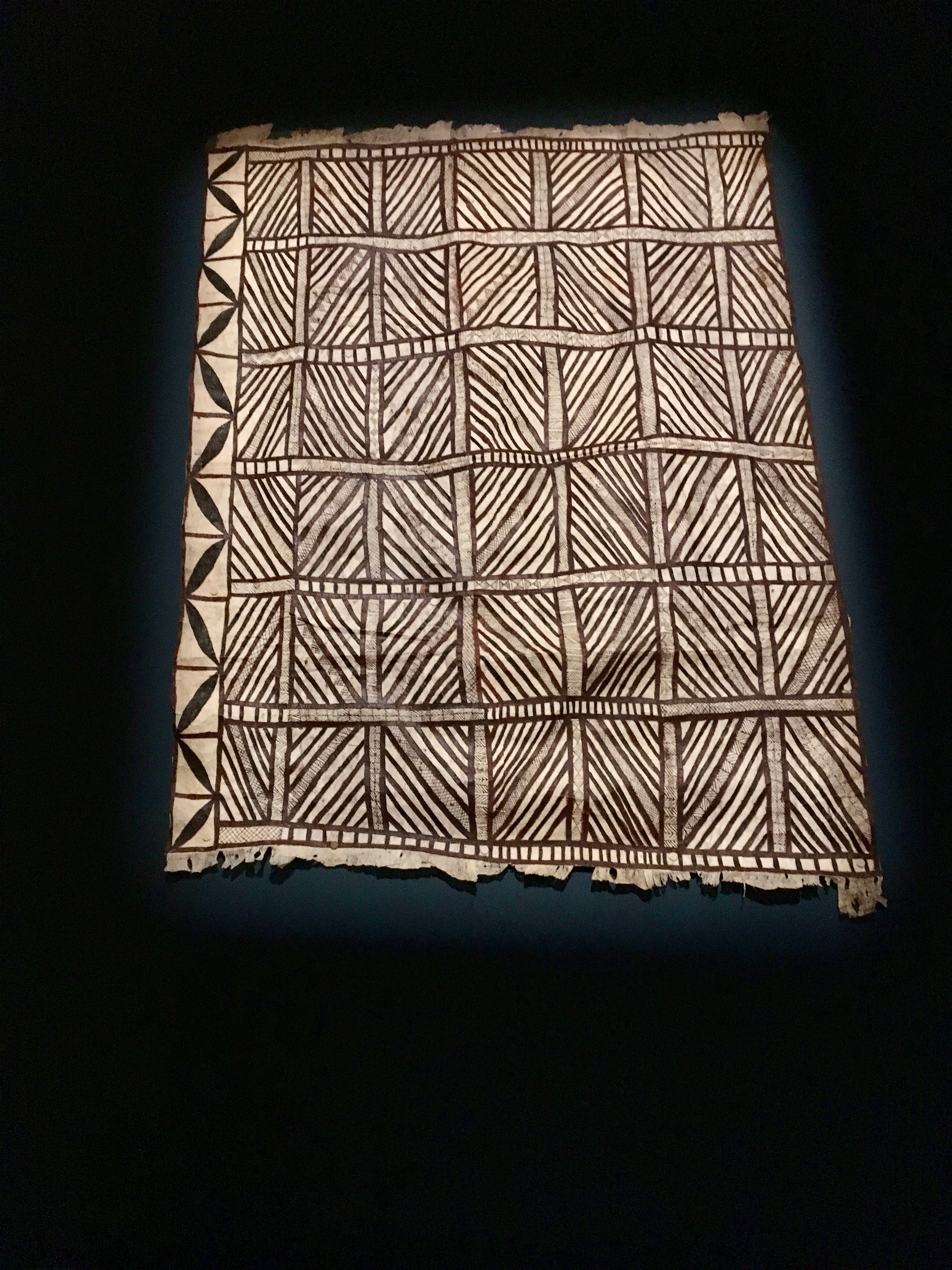 Painted barkcloth, Samoa. Late 19th/early 20th century. Museum of Archaeology and Anthropology, Cambridge.
Oceania at the Antipodes

This year's Oceania exhibition at London's Royal Academy of Arts has so far made quite an impression. Here's The Guardian's Jonathan Jones: "From a two-headed Tahitian god to a mourner's costume made of pearl shells, this dazzling exhibition is like having the ocean roll under your canoe." Five stars, he says.

But Oceania visiting the antipodes is not exactly new. Since 1945 there have been, as far as I can tell, at least ten major exhibitions of Oceanic and Pacific art in Europe and America. This time, the curation seems far more sensitive and detailed; perhaps the interest is greater, too (certainly the marketing budget is). Yet we shouldn't forget the history of similar exhibitions to be staged—and by comparing them we might be able to glean the extent of changing attitudes, and scholarly progress, towards the art of Oceania.

Here's a list of Oceanic/Pacific exhibitions overseas that I'm aware of, with catalogue links (when available) and descriptions from the host museums. Please get in touch if you're aware of other exhibitions I could include in this list.




— — — —




1. 1945, City Art Museum of St. Louis: Oceanic Culture. (The entire exhibition grew out of the American experience in the Pacific during WWII, which is fascinating in itself. The catalogue is painful to read, though not unsurprising, for its stereotypes and views of cultural development).

"In the recent conflict in the Pacific, no area was of more vital importance to the ultimate victory of the Allies than Oceania, a vast region where the proportion of sea to that of land is awe-inspiringly large. Yet the myriad Pacific islands, many of them almost infinitesimal in size, were all-important to the execution of the brilliant strategy whereby with dramatic suddenness our enemy was overcome… It is important that we know more about the kind of people who gave us generous aid and among whom many of our own men found themselves living for months at a time under conditions of great hardship."

2. 1946, Museum of Modern Art (MoMA), New York: Arts of the South Seas. Catalogue here.

"Arts of the South Seas was a singularly comprehensive exhibition of artwork from Oceanic cultures. Part of a series of non-Western, non-modern art exhibitions, it featured more than 400 works of art from Polynesia, Micronesia, Melanesia, and Australia. In the accompanying catalogue, René d'Harnoncourt, the director of the Museum's Department of Manual Industry, explained the impetus for the exhibition: although Oceanic art was relatively unknown in the West, there was great "kinship between arts of the South Seas and recent movements in modern art such as Expressionism and Surrealism."

3. 1979, National Gallery of Art (NGA), Washington, D.C.: Art of the Pacific Islands. Catalogue here. (This is the only other Oceanic art exhibition that I could see referenced anywhere in the RA's Oceania catalogue).

"In spite of the wealth it has to offer, the art of the Pacific Islands remains perhaps the least known of the world's art to the modern audience. Throughout this mass of islands there existed hundreds of cultures, many of them sustained by only a few hundred people. The cultures developed into richly disparate modes with elaborate social systems and highly refined systems of intellectual and religious life. Most striking of all, however, is that these cultures created an extraordinary range of art styles to express and serve their beliefs. The aim of the exhibition this catalog accompanied was to highlight objects that were made before or collected at the earliest contact by Westerners, and which therefore reflect the most pristine state of the cultures."

4. 1984, Museum of Modern Art (MoMA), New York: "Primitivism" in Twentieth Century Art: Affinities of the Tribal and the Modern. (This well-discussed and controversial exhibition was not solely devoted to Pacific art, but included a large section of it. Interestingly neither a description or the English catalogue are available on MoMA's website.)

5. 1984, Metropolitan Museum of Art (Met), New York: Te Maori. (Perhaps the most important exhibition for New Zealand to be staged overseas. The Met doesn't include any information on the exhibition on its website, nor a digital version of the catalogue. The New Yorker's article from the time gives a sense of the exhibition's US reception; Hirini Moko Mead's Art New Zealand article tells of the Maori response).

6. 2006, The British Museum, London: Power and Taboo: Sacred objects from the eastern Pacific.

"The exhibition will feature several famous examples of Polynesian material including the enigmatic A'a figure from the Austral Islands, the striking feather god head from Hawaii and an intricate nephrite tiki pendant from New Zealand. These objects have had a significant impact on the development of modernist art as they were studied and admired by artists such as Henry Moore and Pablo Picasso (who had a replica of the A'a sculpture in his studio). They also continue to inspire Polynesian artists, many of whom have produced work based upon this collection."

7. 2006, Museum of Art and Archaeology, Cambridge: Pasifika Styles.

"Pasifika Styles was an exhibition and festival celebrating contemporary art work inspired by Maori and Pacific Island culture and historic collections. Showcasing selected works from New Zealand's top contemporary and emerging artists, the exhibition was presented in the Museum's galleries alongside an unparalleled collection of historic Oceanic art."

8. 2006, University of East Anglia: Pacific Encounters: Art and Divinity in Polynesia 1760-1860. (I'm lacking online information about this exhibition, but this review deals with these last 3 exhibitions).

9. 2013, Rautenstrauch-Joest-Museum, Cologne: Made in Oceania: Tapa – Art and Daily Life. (Article here).

""Tapa" is the Polynesian word for fabrics made from a special type of tree bark which can be painted and used for variety of purposes. Oceania, in particular, has a rich, multifaceted tapa culture, which the Rautenstrauch-Joest-Museum presented for the first time in Germany in a special, large-scale exhibition. The exhibition featuring international loans (e.g. from New Zealand and Australia) and pieces from its own collection compared and contrasted contemporary works of tapa. The presentation focused on various aspects, such as gender, religion, identity, migration and diaspora, and examined these further in discussions with artists and in workshops."

10. 2018, Royal Academy of Arts (RA), London: Oceania.



— — — —



If nothing else, the list dampens somewhat the RA's marketing claims of the exhibition's uniqueness. But some further questions, out of this brief survey: Did it take the American war experience in the Pacific to first spark any interest, however patronising, in Pacific art? What accounts for the subsequent intermittent interest—could these exhibitions be linked somehow to global events that put Oceania/the Pacific on Europe's metaphorical map? And why did it take so much longer for any European exhibitions of Pacific art to be staged than in America; is this representative of the provincialism of European attitudes to art from anywhere else?

In light of that latter question, the Royal Academy's Oceania seems not so much a marking of 250 years since Cook "discovered" the Pacific, but of perhaps a decade since Britain and Europe opened their artistic sights on the rest of the world. Oceania is a fitting beginning.